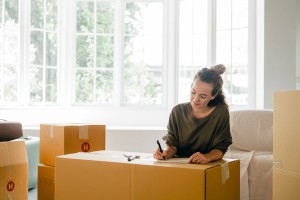 Image via Pexels
Creating a Checklist When Moving for Your Career
By Cindy Aldridge
Los Angeles is home to over 244,000 businesses, making it an excellent location to move to if you're interested in bettering your career prospects. However, before you begin the relocation process, you should create a list to stay organized. Fortunately, this article (presented below by Andrea Dunlop) can help you know everything you need to prevent stress and hassle and potentially save money.
Importance of Planning
Planning is essential to prevent any hiccups along the way. For instance, without planning, you could miss deadlines at your new job, which is highly unprofessional.
On the other hand, when you don't carefully plan, you might forget certain items you need to bring first so you can work and live comfortably. If you feel stressed, you might overlook some of your responsibilities at work or make careless errors.
Ask Your Employer About Relocation Assistance
Some employers offer relocation assistance to help employees who aren't in the Los Angeles area move. If your employer didn't already specify these services, contact them and ask. You may be able to receive some financial aid toward moving, whether you plan to rent or buy.
Budget for the Move
Keep in mind that if you're buying a home, you must have money for closing costs. The average price of closing costs in Los Angeles is between 2% and 3% of the total cost of the home. On the other hand, if you rent, the average rental price in LA is $2,563, and you usually need the first and last month's rent. Additionally, you typically need to put down a security deposit.
Prioritize Your House Search Requirements
As you search for a home, make sure location is one of your top priorities. If you own the home, you can change it as you see fit, but you can't change the location. Choose a house in a good school district if you have kids, and pick a home close to the amenities you require most, such as a grocery store or gym.
Once you select a location, start a checklist of needs and wants in a home. For instance, if you're self-employed, opt for a place with a spare bedroom or space to convert into your workspace. Make sure the average home price is at the top of your list, whether you're renting or buying.
Get the Internet Hooked Up as Soon as Possible
This is particularly vital if you work from home. It's usually a few days before a technician can set the internet up, and you don't want to be without it if you require it for work.
Compare Moving Companies
Hiring a moving company can reduce your stress and hassle, even if you only choose them for your large appliances. Be sure to consider prices as you compare. Look for companies running specials. It also helps to read reviews written by previous customers.
Know the Important Steps of Relocating for a Job
When you know the most vital aspects of moving for your career, you can stay on top of everything you need to do and possibly even save yourself money along the way.
Contact Andrea Dunlop for help finding your perfect home in Los Angeles.